OK, so I definitely already knew this, but it has just been underlined, put into bold typeface and neon lights.
A good photograph can make or break a sale.
You need to be able to trust your retailer, especially in an online situation where a photograph and honest description are what you have to rely on.
As I have a particular look that I want for the website, I very often can't use the suppliers' photographs and have to reshoot the clothes myself. This has been an interesting learning curve… tricksy, slippery, creasing, moving fabric!
I have been fortunate though that the stock that I have ordered in has been of the quality that I wanted. Ordering online isn't just a risk for the general public… imagine ordering 6 copies of the same thing, not knowing what the quality and fabric was going to be like… I guess I'll have this joyful experience every time I find a new supplier too! :0)
I have started some clothing boards on Pinterest and whilst flitting around the interwebs, looking at STUNNING vintage couture (seriously, you need to click on that link!), I found the perfect example of the difference good and meh photography can make.
Example One: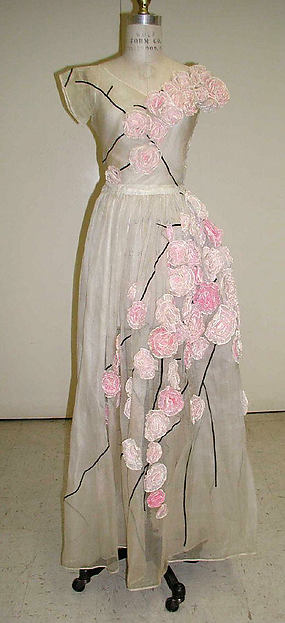 Looks… OK… I might have a closer look if I saw it jammed into a rack of vintage clothing but it doesn't exactly leap out. It's obviously see-through so there's the matter of finding an appropriate slip. It looks a bit yellowed, a bit dingy, the flowers a bit crushed. The right side looks like its pooched out a bit on the hip, and who needs extra pooching there?
However, I would be so completely wrong to not take this dress seriously and jump on it and sprint to the cash register.
Example Two: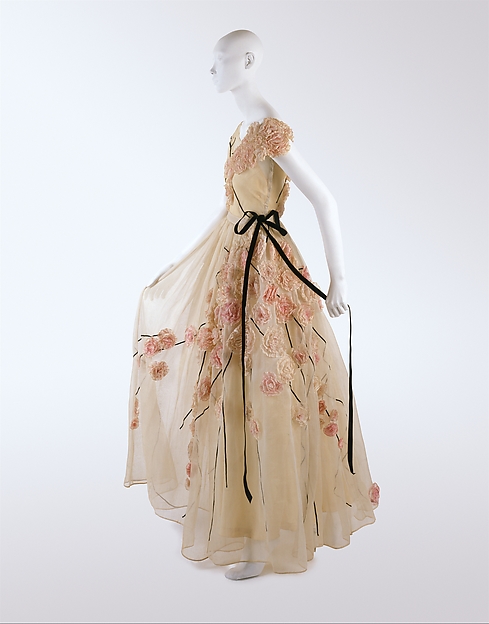 WOW!!
This is actually a dress from the House Of Lanvin, designed and made in France in 1937 of silk and cotton.
What a difference!
I don't think this is a case of the photography being deceptive either. Example two simply shows the dress to its best advantage. It shows you what it can be. Example one leaves that all to your imagination, and whilst I take my hat off to those that can see that straight away, I need a little help.
So, that's what I've had underlined to me this week. The learning continues. :0)
Denise
PS. Seriously… check out my Pinterest boards. The prettiest dresses and suits and shoes you ever will see.